The Lord Mayor of Birmingham Visits  St. Benedict's Infant School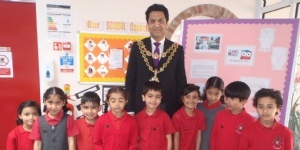 On the 24th of April 2015 the Lord Mayor of Birmingham came to visit our school. The School Council had the chance to interview the Lord Mayor and asked him lots of questions.
Question 1 from Syeda
Is it hard being the Lord Mayor of Birmingham?
"My job takes up a lot of my time and I have to work every day, seven days a week. I like to visit schools in Birmingham."
Question 2 from Hamza
Are you rich?
"No I am not rich!"
Question 3 from Sabawon
Do you live in a castle?
"No I don't live in a castle, I live in an ordinary house not too far from our school."
Question 4 from Eisha
Do you like Birmingham?
"I think Birmingham is a very special city with lovely people."
Question 5 from Mikayal
Do people like you?
"I think people like me! I hope they do!"
Question 6 from Maisha
Do you have lots of problems to solve?
"I don't have too many problems to sort out. I like helping people and raising money for charity."
Question 7 from Nimra
Where did you get your education from?
"I went to school in Birmingham, starting off at Wyndcliffe Primary School nearby and studying engineering at Birmingham University."
The School Council were all given a badge and picture of the Lord Mayor and then got to try on his gold chain. Take a look at the photographs! All the School Council members spoke very confidently, were very polite and showed excellent manners. We had a fantastic morning! May be there is a future Lord Mayor in the School Council?