Reading Year 2-Year 6
Reading
At St Benedict's we aim to create a reading culture that allows every child to learn to read, regardless of background, needs or abilities. We want our children to be fluent, confident readers who have a genuine love of reading. They will be exposed to a wealth of stories, poems, rhymes and non-fiction to develop their vocabulary and language comprehension. We work to inspire them to become life-long readers who enjoy books and have a desire to read for pleasure.
Early Reading
We teach early reading through the systematic, synthetic phonics programme Little Wandle Letters and Sounds Revised. Right from the start of Reception children have a daily phonics lesson which follows the progression for Little Wandle Letters and Sounds and this continues in Year One to ensure children become fluent readers. Pupils are supported through Keep Up sessions when they are identified as needing extra support to ensure they are able to maintain the pace of learning to enable them to meet or exceed the expected standard of the phonic reading check. Pupils also take part in two group reading practice sessions a week to ensure they have the skills to become fluent readers. Pupils are given access to the same texts as an e-book as part of homework provision.

Little Wandle Letters and Sounds Revised is a complete systematic synthetic phonics programme (SSP) developed for schools by schools.

Based on the original Letters and Sounds, but extensively revised to provide a complete teaching programme meeting all the expectations of the National Curriculum, and preparing your children to go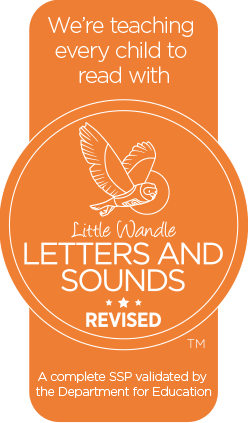 beyond the expectations of the Phonics Screening Check.
Head to the Parent Area to find out how you can support your child with phonics and Early Reading.

Spoken Language and Vocabulary
Spoken language underpins the development of reading and writing. Our children are provided with a variety of quality language that they hear and speak in order to develop their vocabulary, grammar and their understanding of writing and writing. We provide progression in sentence structure, word structure/ language and terminology across each year group. This provides our children with a constantly developing and increasing word bank to support their reading and writing. Spoken language opportunities are also provided through the use of the daily dashboard and vocabulary ninja (word of the day). Teachers also ensure that key vocabulary is visible in the classroom, referred to and understood by the children.

Reception Phonics - Resources
Reception Progression
Autumn 1 Grapheme Information Sheet
Autumn 2 Grapheme Information Sheet
Spring 1 Grapheme Information Sheet

Year 1 Phonics - Resources
Year 1 Overview
How to Say the Phase 5 Sounds

Reading at Home
A Guide to Reading at Home
Opportunities for Reading at Home
Guide to Book Band Levels
Bug Club Information for Parents
Click here to access Bug Club
Big Cat Collins Log In for Reception and Year 1