Rights Respecting School - Gold Award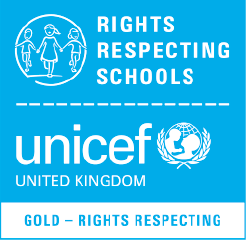 We are delighted to announce St Benedicts Primary School has met the standard for UNICEF UK's Rights Respecting Schools Award at Gold.
We had previously been awarded silver status in recognition of the awareness raised within our curriculum and ethos as being a 'Rights Respecting School'.
Aspiring to achieve the Gold Rights Aware Award, a UNICEF RRSA Professional Adviser spent the day at our school. The visit included meeting with senior teachers, staff and students. Written evidence was provided, outlining how the school fulfilled the criteria to meet the UNICEF strands;
A big congratulations to everyone at St Benedict's on achieving UNICEF UK's Rights Respecting Schools Gold Award. This is in recognition of the school's commitment to putting the principles and values of the UN Convention on the Rights of the Child into its everyday practice for its students.
Our school will continue with its RRSA journey, helping students learn about their rights and the rights of all children & young people around the world. This will also prepare St Benedicts students well in becoming informed and active citizens of the next generation to the benefit of their local community and the wider world.
If you would like more information about the work of UNICEF or a Rights Respecting School then please visit: www.unicef.org.uk/rrsa.